PTFE Nonwoven Fabric, Filter Cloth And Needle Punched Felt Dust Bag
1. Product Description
The mechanical properties of ptfe bag made of polytetrafluoroethylene are soft. Has very low surface energy. PTFE has a series of excellent performance:

  High temperature resistance: long-term use temperature 200~260 degrees;

   Low temperature tolerance: -100 degrees is also very soft

   Corrosion resistance: can withstand aqua regia and all organic solvents;

   Weather resistance: aging life in plastic;

  High lubrication: the smaller coefficient of friction in plastics (0.04);

   Non-stickiness: no substance attached, with small surface tension in solid materials;

  Non-toxic: physiologically inert; excellent electrical properties, is an ideal c-level insulating material, the thickness of newspaper can further shield the high voltage of 1500V; smoother than ice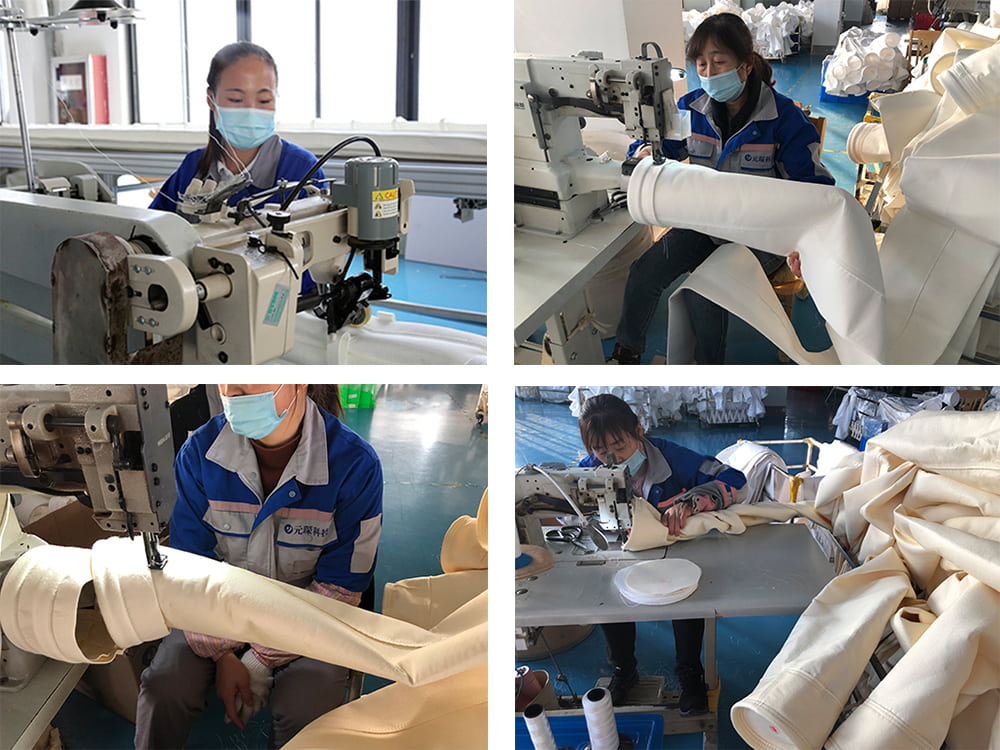 2.Measures to extend the life of filter bags
1. Appropriate filtering wind speed
Generally, when the dust concentration is high, the wind speed of the filter should be lower, and vice versa. The smaller the dust particles, the lower the wind speed of the filter, and vice versa.
2. Pre-spray to prevent oil adhesion
When the boiler is ignited and operating under low load, it usually takes a long time to drain the oil. If the filter bag is not pre-treated when the oil fume passes through the filter bag, it will cause irreversible damage to the filter bag.
3. Correct injection pressure and pulse width
Adjust the appropriate blowing pressure and pulse width to avoid excessive blowing pressure.
4. Suitable exhaust temperature
Strictly control the change of exhaust temperature to prevent it from being too high or too low.
5. Temperature indicators
The filter material can be divided into normal temperature filter material, medium temperature filter material and high temperature filter material according to the amount of temperature it withstands. Generally speaking, the high temperature that can withstand is about 200℃~300℃, and the temperature tolerance of the glass fiber filter material is 300℃, but the working temperature should be controlled at about 260℃.
3. Certificate available
• Hazardous waste management license
• Environmental management system certification
ISO14001:2004
ISO9001:2008
OHSAS18001:2007
• CNAS Laboratory
• CE Certificat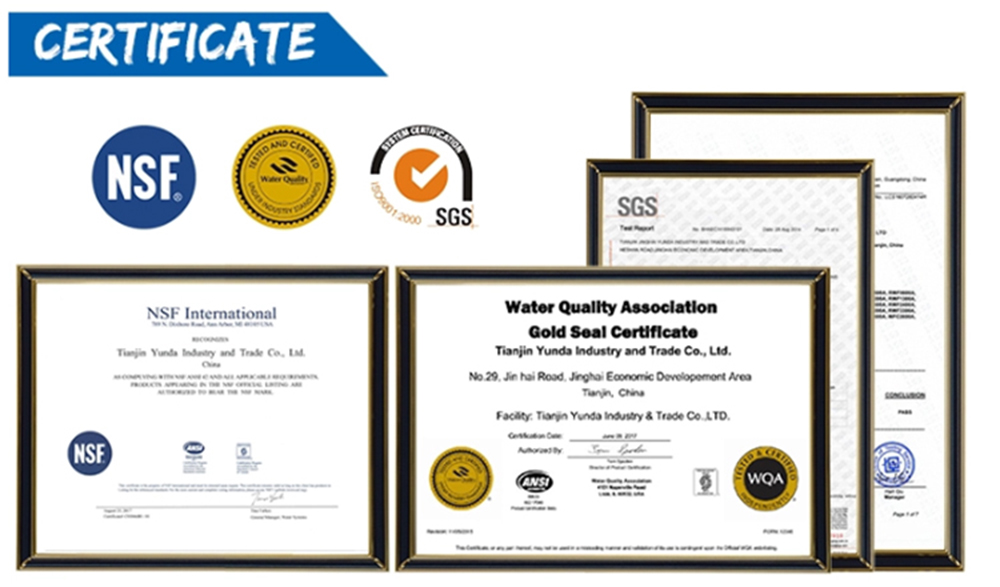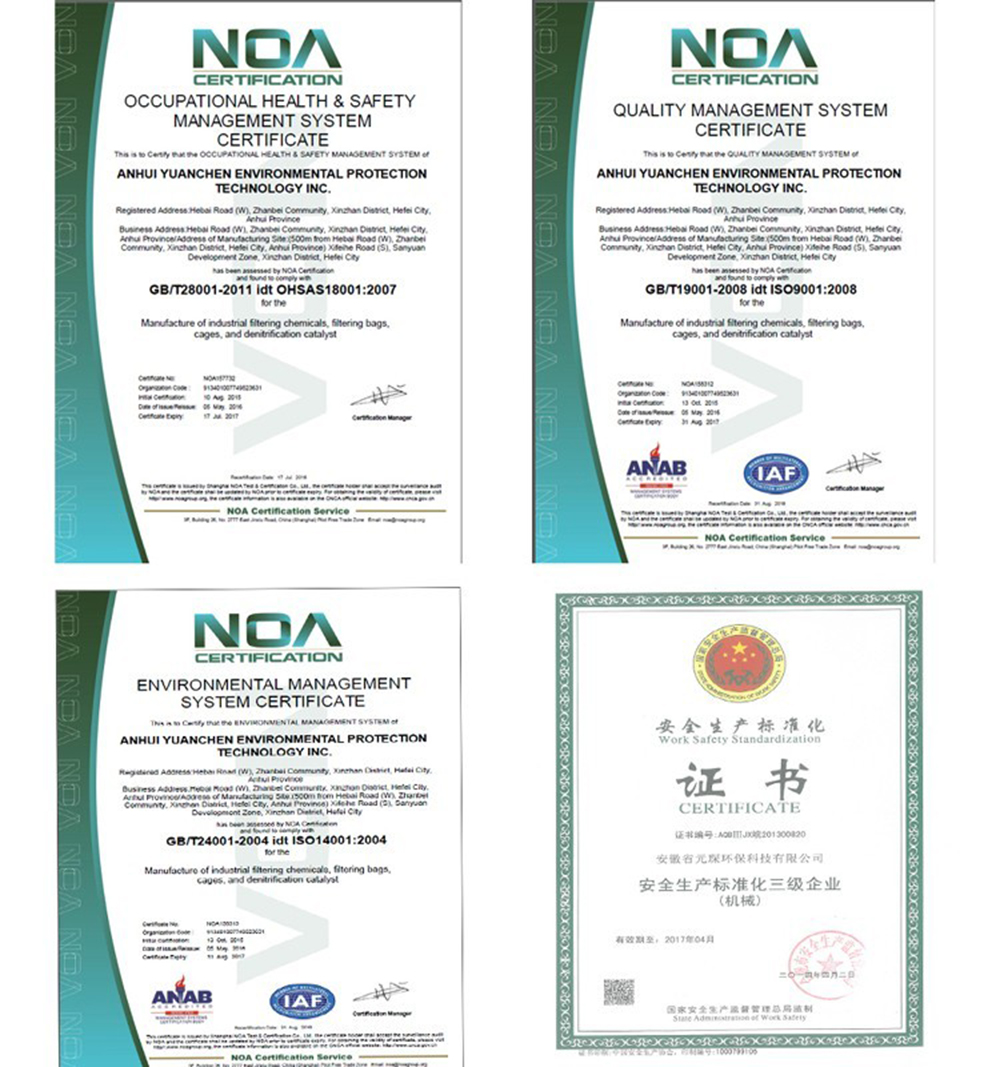 4.Raw Material Test
We yuanchen have our own lab for test raw material of non woven needle punched felts.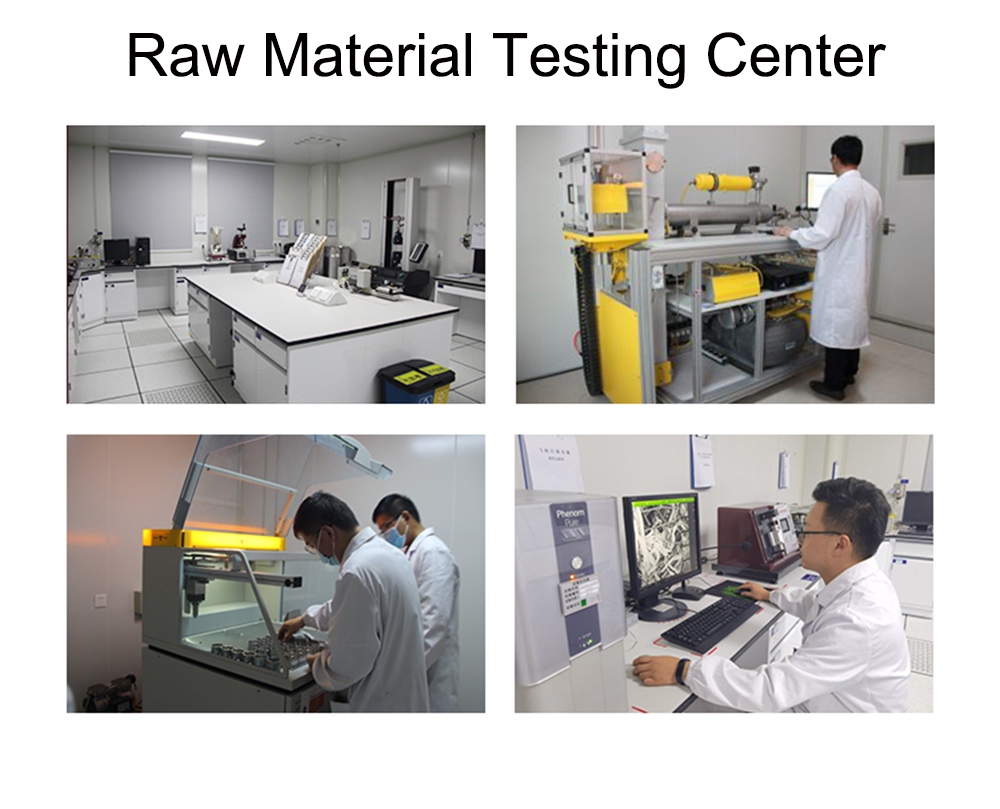 5. Application field:
Yuanchen products are widely used in purifying dusty air in industries like Metallurgy, Steel, Cement, Mechanical, Electricity, Chemicals, Waste Incineration, Concrete Mixing and Other conditions of complex industries.
Yuanchen pulse jet dust Filter Bags are sold very well both domestic and abroad, highly praised by our customers.
We can supply you with the product in large quantity at wholesale prices.
And best after-sales service provided after order confirmed.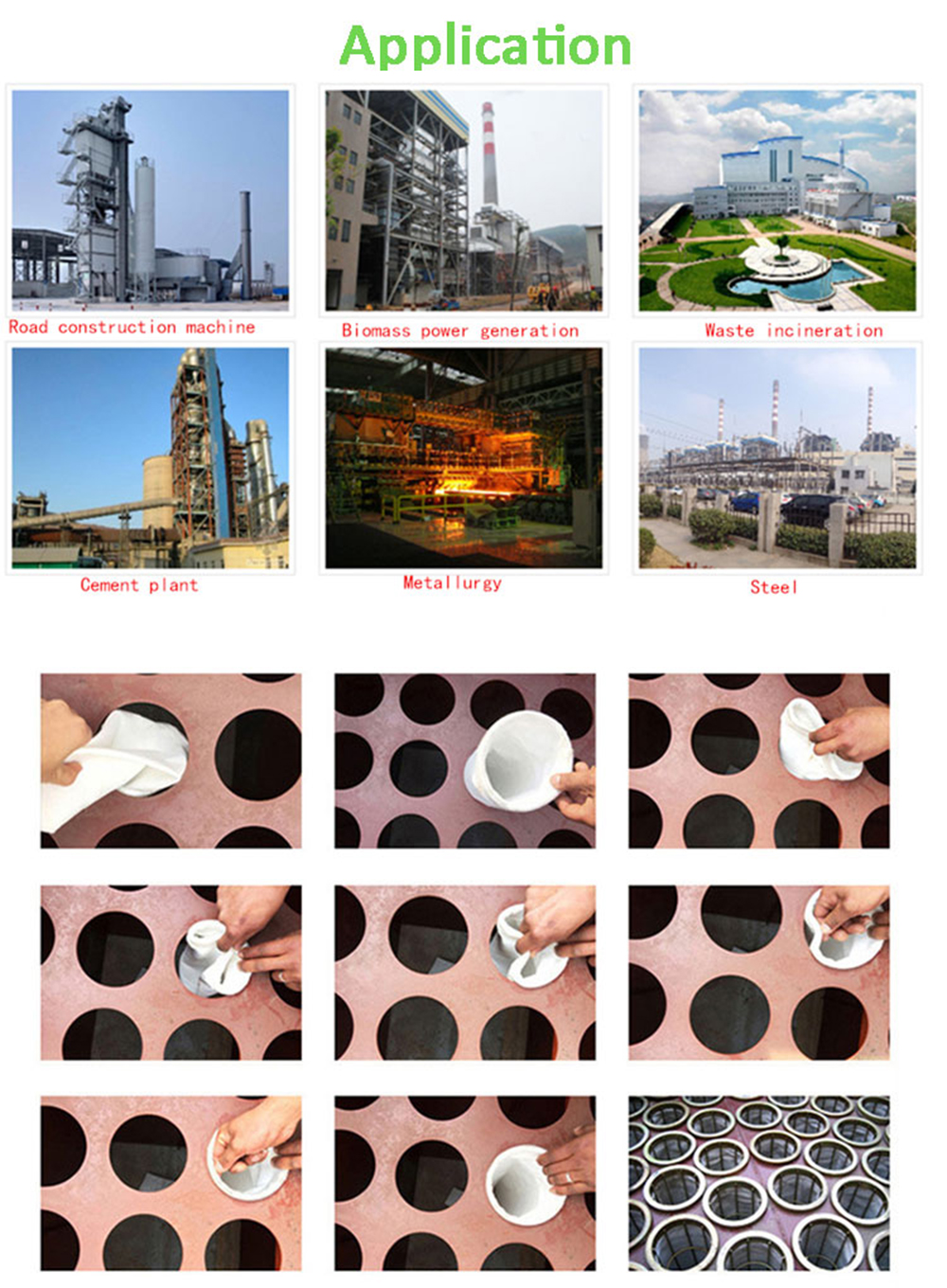 6. How to pack the Waste Incineration Dust Collector PTFE Filter Bags?
Different types of dust collection filter bags must be individually packaged. In general, it is wrapped in plastic bags for water proof, then put in a carton. Dust Bag Filter must be neat and regular packing, with the ring of the waste incineration dust filter bag to avoid ring flat compression deformation. For the requirement to keep the shape of cloth dust collector filter bag, it must fill padding for filter bag inside. Any other packing ways also be accepted up to you.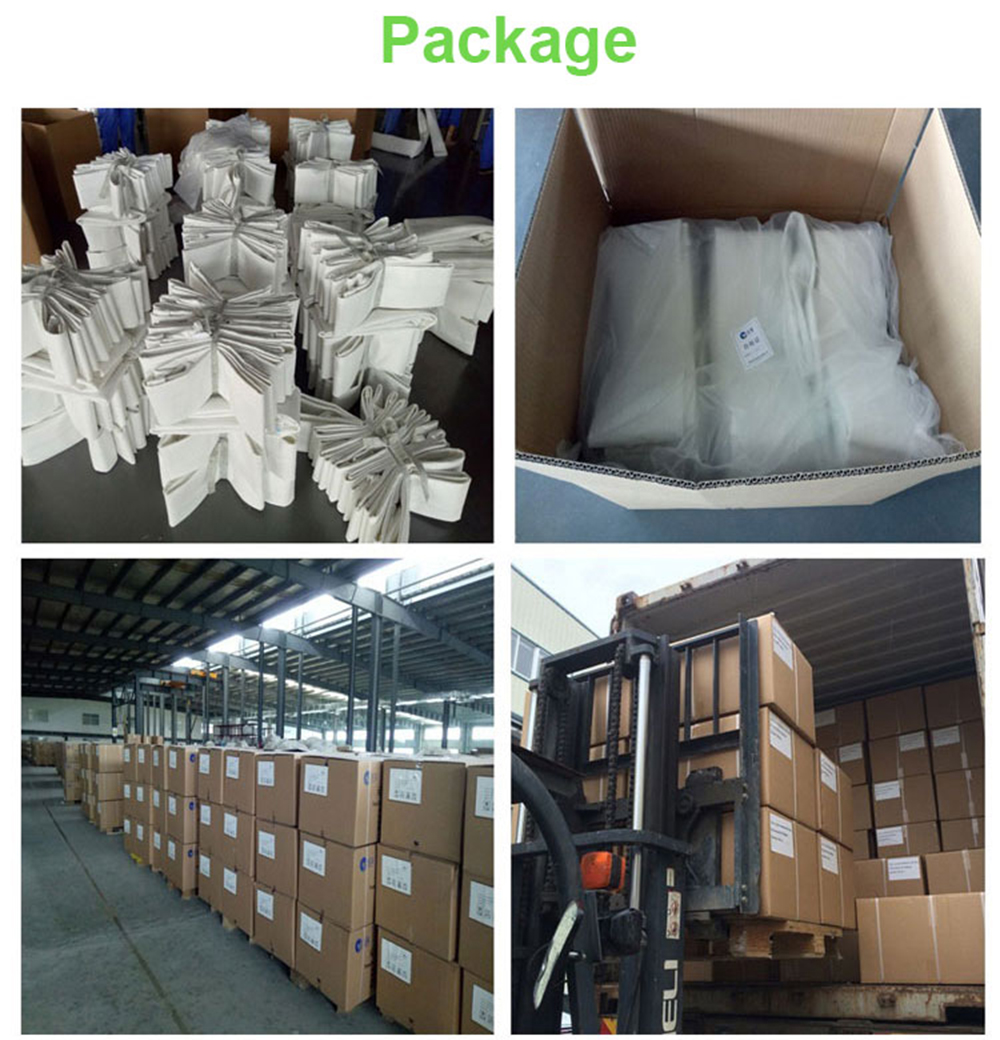 7.FAQ
Q: What is your terms of payment?
A: T/T will usually be accepted,details could be negotiated.

Q: What is your terms of delivery?
A: FOB, CFR, CIF, DDU,EXW or others.

Q: How about your delivery time?
A:Usually,10-20 working days since payment receipt.

Q: Can you customize?
A: Yes, we can produce by your samples or technical drawings.

Q: What is your sample policy?
A: Sample free but freight collect.

Q: Do you test all your goods before delivery?
A: Yes, we have 100% test according to our QC system before delivery.

Q: Why choose Yuanchen?
A1:Authoried certificates including ISO14001,ISO9001,SGS,CE,CNAS,CMA,Hazadous waste management license.
A2:Small customized order acceptable.
A3:Experienced sales team:for your inquiry,our sales with professional product knowledge,capacity of foreign trade hanling.
A4:Strict inspection system:pre-production inspection,during production inspection and final inspection will be implemented in full process.
A5:Flexible payment method:T/T,L/C,Paypal or negotiated.
A6:Perfect after-sales method:Any doubts during use or any quality defects,pls provide necessary proof and it will be solved within 72 hours.
A7:Technical support:Yuanchen has awarded 96 patents including 21 patents for invention and 75 utility patents.And we have our own lab-CNAS,can test thickness,air permeability,weight,strength and so on.

Q: Are you manufacturer?
A:Yes,we are manufacturer and exporter since 2005.