Dust Filter Polyester Needle Felt Filter Bag
Specifications for non woven needle punched polyester filter bags
Standard sample:
Material: 100% polyester virgin fiber/ Polyester high tensile strength scrim
Weight: 500g/sq.m
Thickness:1.8mm
Air Permeability: 300 L/ m2. S @200pa
Tensile strength: Warp: >1000N/5cm; Weft :> 1200N /5cm
Elongation : Warp: < 25%; Weft: <55%
Service Temperature: Continues: <130℃; Peaks: 150℃
Shrinkage (at 150℃):<1%.
Surface treatment:singed & glazed, heat set.

We also can finish them with Teflon bathing and membrane. Our polyester needle felt adopt sound needle punching nonwoven workmanship, with the property of stable physical dimension, easy cake release, good air permeability, widely used for industrial dust collection and liquid filtration, etc.
After water-oil repelled treatment, can be use in the circumstance of moisture and oil mist for a long time. After the PTFE membrane treatment the felt will with the property of smooth surface, easy cake release, high filter efficiency, save energy, long life, etc.
Note: 1. Special specification can be customized.
2. maximum width:2.3meters.
3. both filter cloth rolls and filter bags are available from YUANCHEN Filters.

Application for Cement Plant Filter Bags for dust collection system:
* Asphalt – Durable construction required for abrasive, high temp environments. Hotmix or batch plants, whether natural gas, waste oil, fuel oil, etc.
* Cement – Filters for all areas of plant: kilns bag houses, silo bin vents, nuisance dust collection, etc. Our filters exceed all EPA emissions standards (NESHAP, CMAT, MACT for portland cement, PM2.5, etc.).
* Chemical – Filter fabrics for acidic or alkali compounds, corrosive or abrasive elements, etc. (lime, calc, fertilizer, plastics, etc.) – Special treatments and fabrics available. We can advise on the best combination for performance and cost.
* Food Processing – Food-grade fabrics construction available for dust collectors used in food production, transportation and packaging such as dust collectors on milling equipment, blenders, mixers, granulators, grain elevators, storage silos and more.
* Foundry and Metal Products – Filters for units used on arc/induction furnaces, casting operations, and precious metal reclamation. Fabrics and coatings for use in high temperature environments with need for high efficiency fume and smoke .* Power Generation and Industrial Boilers – Our filters exceed new EPA emissions regulations for boilers and power generation (Mercury and Air Toxics, Boiler MACT, NESHAPs, etc.). We have much experience working with biomass and coal power production facilities to overcome technical challenges to meet new EPA regulations. Filter fabrics and treatments include PPS, P84, PTFE/Teflon (fabric), fiberglass, and ePTFE membrane.

The YUANCHEN Cement Kiln Dust Collector polyester Filter Bags packaging:
Different types of filter bag must be individually packaged. In general, it is wrapped in plastic bags for water proof, then put in a carton. Filter bag must be neat and regular packing, with the ring of the filter bag to avoid ring flat compression deformation. For the requirement to keep the shape of filter bag, it must fill padding for filter bag inside. Any other packing ways also be accepted up to you.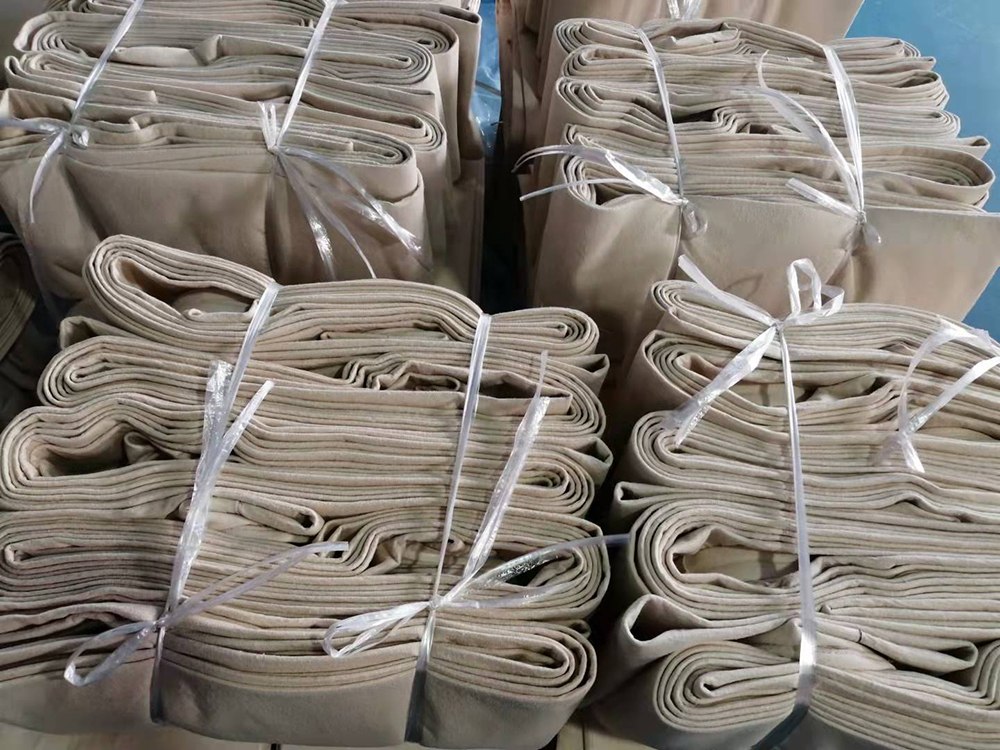 7. FRQ:
1). Are you a manufacturer or trading company?
Manufacturer which located in Hefei,Anhui,China

2). What are your main products?
Needle punched felt, Dust filter bags, SCR Honeycomb Catalyst

3).What payment method can you do?
T/T L/C PAYPAL WESTERN UNION

4). What size can you do?
Customized sizes as you required.

5). Can you offer a sample before an order?
Yes, and it is a free sample
6). How can I order from you?
Step 1 You make the deposit after the Proforma Invoice finalized
Step 2 We start the production, and keep the communication with you if any questions
Step 3 You make the rest payment when the cargo is ready to ship
Step 4 We ship out the cargo, then offer documents